Award Winning Smoked Food Hampers
Order in advance - Delivery Info
Frequently Asked Questions
At Black Mountains Smokery, we are always happy to answer any questions you might have and we are never more than a phone call or email away. We have compiled a list of our most frequently asked questions to make our smoked foods even more convenient.
I've tried to reset my password and I haven't
received

my email. What should I do now?

When we updated our website in autumn 2017, we couldn't bring our customer's passwords over from our old website to the new one due to data protection laws.

The first time you order after September 2017 or if you can't remember your password, you will need to reset your password. An email with a link to reset your password will then be sent to the email address registered to your account. You can then login and change the password to something more memorable. Sometimes this email will mistakenly be put into your 'spam' or 'junk' folders instead on into your 'inbox'. If you cannot locate the email, please phone us and we can reset the password and manually email it to you.

We're very sorry for any frustration that our website may have caused you. Please remember we are always on the end of the phone to help you. 01873 811566
Can I order my smoked food in advance for a
convenient day of my choice

?

Customers have always been able to choose the date that they would like their parcel to arrive – either to themselves or their gift's recipient. We were one of the first mail order companies to offer this service and it has always been central to our Black Mountains Smokery ethos. Not only does it enable us to plan our production to reduce wasted produce, but it allows us to send you the freshest possible produce with the longest shelf life.

We deliver Tuesday to Friday, apart from Tuesdays following a Bank Holiday Monday.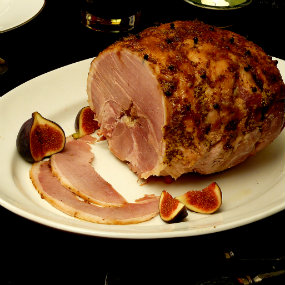 Unfortunately, we cannot offer Saturday deliveries for most of the year.
Please note that Gravadlax is produced to order so please allow 14 days for delivery. Gravadlax is not produced in December. Our hams are also produced to order so please allow 10 days for delivery.
We advise that customers place their Christmas order as early as possible as the delivery spaces just before Christmas fill up very early! Christmas orders generally close by about 15th December.
Do I need to keep smoked foods in the fridge? How long do they last?
Yes, all of our fresh produce should be stored in the fridge, ideally below 3⁰C. Fridged shelf life is approx 2 -3 weeks except Gravadlax, Smoked Kippers and Smoked Haddock which has 10 days and our Traditional Smoked Salmon which has 3-4 weeks. All our produce is freshly prepared and therefore suitable for home freezing. It can be stored in the freezer for up to six months without loss of flavour.
Our Smoked Salmon Pâté, Peppered Mackerel Pâté and Blinis are all dispatched frozen and may thaw during delivery. They are NOT suitable for RE- freezing. They have 7-10 days fridge life after delivery.
What is the best way to serve smoked foods?
As a general rule, smoked foods are best served at room temperature. This helps to maximise the balance of flavour from the meat or fish juices and the tannins from natural smoking over Oak. It also allows the product to breath after being vacuum packed which gives better texture.
Our smoked foods are ready to eat, with the exception of the Smoked Kippers, Naturally Smoked Haddock and our Smoked Back and Smoked Streaky bacon.
We recommend our Dill Mustard Sauce with our Traditional Smoked Salmon and Oak Roasted Salmon. It can be a little overpowering so it's best when let down with a little crème fraîche. Miranda's Sweet Beetroot Chutney is also a fantastic accompaniment to our salmon as well as our Smoked Trout and Smoked Mackerel.
Miranda's Cranberry & Claret Jelly has been developed to compliment our award-winning Smoked Gressingham Duck Breast and the Cider Jelly is perfect with our Smoked Chicken Breast.
For canapés that can be prepared in advance without going soggy, Jo suggests using our canapé shells which can be filled with thousands of different combinations.
If you would like more recipe ideas or serving suggestions, visit our recipe page.
How much should I serve?
As a general rule, Jo recommends serving between 50 and 60 grams (around 2 ounces) of smoked food per person as a starter and between 100 and 120 grams per person as a main course. Of course, if you are serving very hungry guests, please allow for more!
How do your source your fresh produce?
We source our fresh produce with the greatest care, focusing on quality, sustainability and provenance.
The fresh salmon we buy is sustainably produced in deep, fast currents and in low density; sourced from Shetland, which well understands both the need to preserve its pristine waters and the fact that quality welfare equates with quality eating.
Our chicken is sourced from Red Tractor assured British farms. Our duck is from Gressingham who are also Red Tractor assured and farm in accordance with the Duck Assurance Scheme.
We do not offer wild salmon or eel in our range as these are no longer sustainable unless line caught by individual fishermen.
How much do you charge for delivery?
Our delivery is £9.50 for mainland UK delivery and free for our selection of Hampers.
Delivery charges for Highlands and Islands will vary - please refer to the chart on our delivery page for detailed prices.
We may be able to arrange for delivery in Europe by special arrangement. Please contact us for a quote.
In previous years, we have offered a pre-5pm delivery and a premium pre-1pm delivery.
However, since August 2018, we have changed our deliveries so that we now offer a pre-2pm delivery and a pre-12am delivery. This is due to customer demand and because it is easier to track parcels that are due to be delivered earlier in the day, to help ensure that they are delivered safely and on time. Please note that there are particular areas, considered remote by the courier company where morning delivery is not an option. (eg Some post codes in Dumfries and Galloway and the Scottish Borders)
Will my hamper look exactly as it does in the photo on your website?
Although we try our best to update the photos on our website when we change the contents of our hamper pages, we are only a very small team and occasionally we struggle to find the time for a photography session on top of everything else, so some images for our Luxury Food Hampers & Gourmet Gifts may not be exact. Always refer to the item description for specific contents of the hamper.
Most of our hampers under £80 are packed into smart presentation boxes, which are then surrounded by gift shred and put into a smart outer cardboard box. Our hampers over £80 or those which do not fit into a presentation box are packed into a smart cardboard box with plenty of gift shred. This can always be upgraded with the addition of a wicker hamper where not included.
Your hamper, gift or side of salmon wouldn't be complete without your gift message, hand written on a compliments slip. Opening a hamper from Black Mountains Smokery is always a wonderful experience, guaranteed to delight your friends and family.
Who will deliver my parcel?
Our parcels are delivered on an overnight service by APC.
Once your parcel leaves us, it goes to a central parcel hub where all of the parcels are sorted. They then are taken to the depot closest to our delivery address where they are loaded into a van and delivered to your door.
In the main our selected couriers provide an excellent delivery service throughout the year but, like all delivery companies, they become stretched in the week prior to Christmas and service can be affected by inclement weather conditions. Packages can occasionally be delayed, or even undelivered, by the courier. We try to track all of the parcels once they leave us to ensure a timely delivery but please contact us as soon as you have any concerns about your parcel. The quicker we know, the better we can chase!
Do I need to be in to sign for my parcel?
It is always best if you choose a delivery date when you can be home to sign for your parcel, but if not, our couriers will leave the parcel in a safe place. We always recommend that if you know of a safe place where the courier could leave the parcel (e.g. with a neighbour or on the porch) that you write that in the 'Delivery Instructions' box at the checkout.
Please be aware that the courier will always leave the parcel safe so it is important to check with any gift recipients that they will be around on the day of delivery to put their order in the fridge.
Can I recycle the silver liner in my parcel?
Unfortunately, we couldn't source any recyclable liners for our parcels – but you can always reuse them!
They are extremely useful for keeping your shopping cool on the way home from the supermarket or for taking on summer picnics.
We love hearing the creative ways that our liners are used! Our favourites are:
As a liner for a plant pot
As armour for a knight in a school play
As part of a pretend rocketship!
What is SagePay?
As you go through the check-out on our website, in the billing options section, there is the option to pay by Credit / Debit Card or Paypal via SagePay Secure Payment. SagePay processes payments online on our behalf. We use SagePay as our payment provider to ensure that your card payment details are kept as safe and secure as possible.
Can I alter my order once it has been placed?
If you need to alter your order, please let us know as soon as possible and we will always try to accommodate your changes.
Christmas is our busiest time of the year - we send out hundreds of parcels a day in the two weeks before Christmas. Obviously, it can be very difficult to find individual parcels when there are so many. Once your item is packed and ready for dispatch (one or two days before your delivery date), we are unable to change either the contents of your order or the delivery address. We are also unable to cancel your order once it has been packed.
Can I send to more than one address?
Yes, you can send to as many different addresses as you like. Much like the passwords, we couldn't transfer our customer's online address books from our old site to our new one.
Once an alternative delivery address has been added into your online address book, it will be waiting for you next time you would like to place an order to that person. You can even name each address to easily differentiate them. If you would like to place orders to more than one delivery address, you will need to create a separate order for each delivery address.
Please phone us if you would like us to input your addresses or orders for you.
Can I collect my order?
Yes! We love having visitors to our smokery show room in Crickhowell. Our new display fridge has given us even more space to display our selection of smoked fish, meats and cheeses. Our shelves are always full of delicious goodies from all over Wales and further afield.
Please bear in mind that as a small artisan producer, we occasionally run out of some of our smoked foods. If there is something in particular that you would like, please order it in advance - you can always add to your order once you arrive.
We are open from Monday - Friday from 9am to 5pm.